Tags
1970s, Baby Blue, Badfinger, Celebrity, Come and Get It, Day After Day, finances, Harry Nilsson, musician, No Matter What, Pete Ham, Stan Polley, suicide, Swansea, Welsh, Without You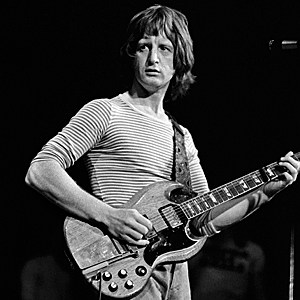 Pete Ham (April 27, 1947 – April 24, 1975)
Peter William Ham was born in Swansea, Wales. He formed a rock group The Panthers circa 1961. Undergoing numerous name changes, they ended up as The Iveys in 1965. They relocated to London. The Iveys came to the attention of Ray Davies of the Kinks and Mal Evans, personal assistant to The Beatles. After all four of the Beatles approved, the Iveys were signed to their Apple Records label.
With the release of their debut single, Come and Get It, they changed their name to Badfinger. More hits followed with No Matter What, Day After Day and Baby Blue. Ham's greatest song writing success as co-writer of Without You, the worldwide number one hit of Harry Nilsson. Ham won two Ivor Noevllo Awards (British song writing awards) in 1973. In 1972, Badfinger was picked up by Warner Brothers Records as Apple Records was crumbling.
In April 1975, Warner Brothers sued the band's business manager Stan Polley after an advance vanished. Polley disappeared and the band were left penniless. Three days before his 28th birthday, Ham hanged himself in his garage believing his finances had been wiped out. On April 27, 2013, an official blue plaque was unveiled by the Swansea City Council to honor Ham in his hometown.