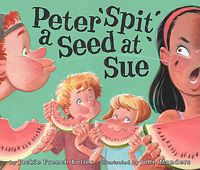 Peter Spit a Seed at Sue (Viking Books for Young Readers, 2008)
This rhyming story for children recounts the fun four friends have after turning a boring summer day into a watermelon seed spitting adventure that grows to include the whole town. Then the mayor shows up. Will the fun be spoiled?
Peter Spit a Seed at Sue was written by American author Jackie French Koller and illustrated by American John Manders.