Tags
businesswoman, Celebrity, contractors, Dunnellen Hall, flamboyant, Leona Helmsley, Leona Mindy Rosenthal, non payments, Queen of Mean, real estate, tax evasion, tyrannical behavior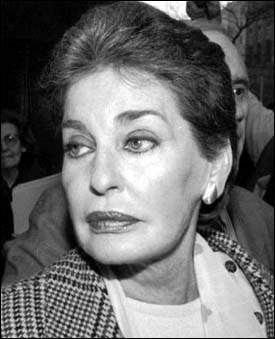 Leona Helmsley (July 4, 1920 – August 20, 2007)
Leona Helmsley was an American businesswoman known for her flamboyant personality and her reputation for tyrannical behavior, earning her the nickname Qoeen of Mean.
Born Leona Mindy Rosenthal in Marbletown, New York to Polish-Jewish immigrants, her mother was a homemaker and her father was a hatmaker. After dropping out of high school, she changed her name several times finally settling on Leona Mindy Roberts, to which she legally changed her surname to Roberts. Her first husband was an attorney, her second (whom she married and divorced twice) was a garment industry executive. Here she worked for a brief time at one of his sewing factories, before she joined a New York real estate firm (where she made a small fortune for herself). Her third (and final) husband was real estate entrepreneur Harry Helmsley. Harry divorced his wife of 33 years to marry Leona in April 1972. (They remained married until his death in 1997.) Together they set up a real estate empire including a hotel chain.
Despite a net worth totalling over $1 billion, they were known for disputing payments to contractors and vendors. In 1983, the Helmsleys bought Dunnellen Hall, a 21-room mansion in Greenwich, Connecticut, to use as a weekend retreat. The property cost $11 million, but the Helmsleys wanted to make it even more luxurious. The work included a $1 million dance floor, a silver clock and a mahogany card table. The remodeling bills came to $8 million, which the Helmsleys were loath to pay. A group of contractors sued the Helmsleys for non-payment; the Helmsleys eventually paid off most of the debt owed to the contractors. However in 1989 after allegations of non-payment were made by the contractors, she was investigated and convicted of federal income tax evasion and other crimes. Having initially received a sentence of sixteen years, she was required to serve only nineteen months in prison and two months under house arrest. During the trial, a former housekeeper testified that she had heard Helmsley say: "We don't pay taxes; only the little people pay taxes," an aphorism which identified her the rest of her life.
Helmsley's later years were spent in isolation, especially after Harry died in 1997. He left her his entire fortune, including the Helmsley hotels, the Helmsley Palace and the Empire State Building, estimated to be worth well in excess of $5 billion. Helmsley was forced to give up control of her hotel empire, since most of her hotels had bars and New York does not allow convicted felons to hold alcohol licenses. She spent her final years at her penthouse atop the Park Lane Hotel. Although Helmsley had a reputation as the "Queen of Mean", some considered her generous in her charitable contributions after her prison term. After the 9/11 attacks, Helmsley donated $5 million to help the families of New York City firefighters and police. Other contributions included $25 million to New York–Presbyterian Hospital for medical research.
Leona Helmsley died of congestive heart failure at the age of 87, on August 20, 2007, at Dunnellen Hall, her summer home in Greenwich, Connecticut. Cardiovascular disease ran in her family, claiming the lives of her father, son and a sister.