Tags
actor, Adrian Grenier, Donnie Carroll, dramedy, Entourage, Eric Weinstein, HBO, Jeremy Piven, Jerry Ferrara, Kevin Connolly, Kevin Dillon, Los Angeles, Mark Wahlberg, Queens, TV, Vincent Chase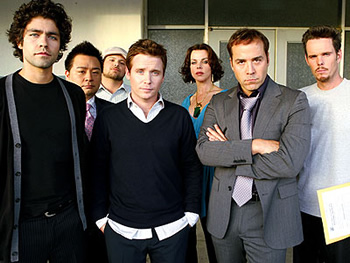 Entourage (HBO, 2004)
Entourage was an American dramedy series that ran for 8 seasons (July 18, 2004 to September 11, 2011) on HBO. The series follows the acting career of Vincent Chase (Adrian Grenier), a young A-list movie star and his friends (Jeremy Piven, Kevin Connolly, Jerry Ferrara and Kevin Dillon) that follow him to Los Angeles from Queens, New York as all the men attempt to further their acting careers.
Actor Mark Wahlberg served as one of the show's executive producers and is loosely based on his own experiences as an up and coming film star. In fact, he claims the show was conceived after his assistant asked if he could Wahlberg and his friends because they were "hilarious." Other reports cite that the concept came from Eric Weinstein, a long time friend of Wahlberg who wanted to film the actor's group of friends. A third theory is that Donnie Carroll, who was the inspiration for Turtle originated from a book idea about Carroll's life.
Whomever the inspiration was, Entourage included many famous guests in guest starring and cameo roles who often played fictionalized versions of themselves.