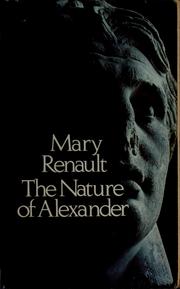 The Nature of Alexander (Pantheon Books, 1975)
English author Mary Renault wrote several
historical novels about King Alexander the Great, ruler of Macedon, Egypt and Persia. These books were: The Mask of Apollo (1966), Fire from Heaven (1969), The Persian Boy (1972) and Funeral Games (1981). She felt these weren't enough to cover his life, so she completed a full nonfiction biography, which was the only nonfiction work of her writing career, The Nature of Alexander. In this book, Renault unabashedly advocates for Alexander as a great man, refuting many slurs against him, both modern and ancient.