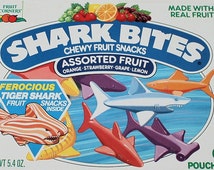 Shark Bites (Betty Crocker)
Shark Bites were a fruit snack produced by Betty Crocker. All the gummy candies were shaped like a shark. The sharks came in the following colors: red, orange, yellow, purple and white. Each color represents a fruit
flavor, but the color doesn't represent the flavor. For instance, the yellow shark does not taste like lemon, it's strawberry.